goldenmargins
Display for Artificial Intelligence: In the field of artificial intelligence, the most representative application is robots. Its applications are particularly wide, such as in industrial manufacturing, home services, multimedia, business applications, digital signage, and so on.
Golden Margins Co., Ltd. mainly focuses on the touch display field, which includes touch displays, touch all-in-one machines, optical bonding, and OEM/ODM services. In the field of Display for Artificial Intelligence, we mainly apply two types of robot application displays, commercial robot display, and industrial robot display.
According to functional scenarios, commercial robots can be divided into educational robots, medical robots, bank service robots, restaurant service robots, navigation robots. Industrial robots can be divided into spraying robots, detection robots, inspection robots, blasting robots, AGV forklift robots.
The information display, human-computer interaction, and application control are the basic functions of robots in touch screen display or panel PC applications. By running system software control, robots can perform difficult and dangerous operations under specific application scenarios in industrial environments.,
As the robotics market expands, there are new opportunities for touch monitor and display devices. Many shopping malls have adopted the robot model. The appearance of shopping mall robots not only quickly gathered popularity but also injected new vitality into the retail industry.
In shopping malls, intelligent robots can greet customers and guide the location of shops for them. Through the system configuration, the robot has a SLAM navigation function, face recognition, dialogue, data analysis, and other functions.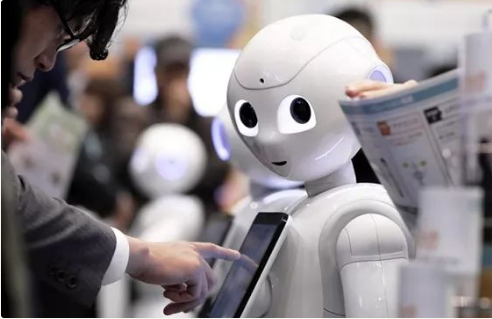 Golden Margin provides industrial touch control and display solutions for industrial and commercial robots, as well as reliable and robust industrial touch screen displays and industrial panel PCs for both industries.
Typically, industrial tablets with Android operating systems are installed on commercial robots, providing HMI, remote access, and Lot solutions.  
Features of Golden Margins industrial tablet PCs:
• Multiple screen sizes for various robots, 7" to 21.5" available.
• Support 4G, GPS, WIFI modules, and Ethernet.
• 350nit-1500nit option supports high brightness screen;
• Long span life for LED backlight enhancements.
• Direct sunlight readable.
• Anti-reflective and optical bonding coating, clearer viewing.
• Support OEM/ODM, Factory direct supply.
•Approved RoHS, CE, FCC, CCC.
•Industrial-grade robust appearance design
• IP65 rated dust-proof and waterproof protection.